System Center 2012 Operations Manager Unleashed ebook
We've all been waited for so long for this book: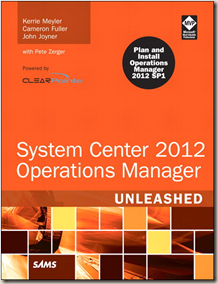 You might have heard that this book is already available in ebook formats from Amazon and Barnes & Noble.
I'm sick of waiting for the paperback version that I bought last July from Amazon, it still hasn't been shipped yet. So I went ahead and also bought the ebook.
I bought the ebook from the publisher's website: http://www.informit.com/store/system-center-2012-operations-manager-unleashed-9780672335914
Unlike Amazon, when you get from www.informit.com, you'll get 3 versions of the ebook: epub, mobi and pdf.
Currently the price is $38.39, but for the limited time, if you use the promo code "UNLEASHED2013", the price will reduce to $37.99 – That's 40 cents off! what a bargain!
So for those who are getting the ebook and hasn't made the purchase yet, I'd recommend to get from the above mentioned site as you'll get all 3 formats: