SCOM 2012 Maintenance Mode Scheduler V3 from Tim McFadden
Tim McFadden has just released the SCOM 2012 Maintenance Mode Scheduler Version 3.
New Dashboard
Tim and I updated the original management packs to cater for this release. The Dashboard MP has a new dashboard for version 3 which allows users to select a windows computer object from the state widget and create a maintenance mode schedule from the PowerShell contextual web browser widget: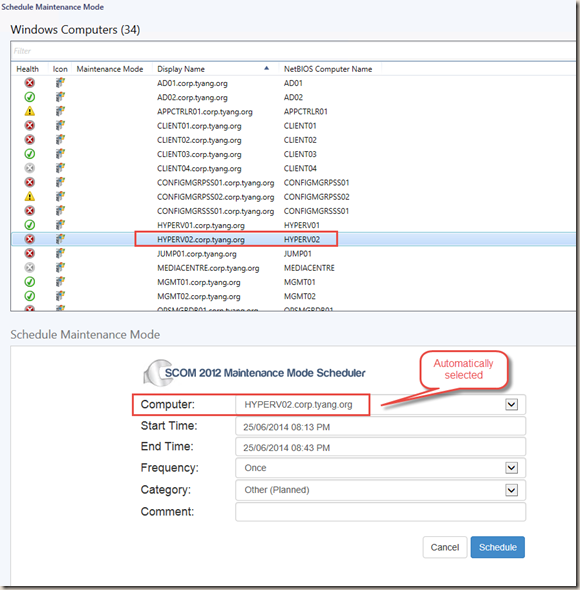 The new MPs are included in the msi. they are located in "C:\Program Files\SCOM 2012 Maintenance Mode Scheduler\Management Packs" folder once the msi is installed.
My Upgrade Experience
I upgraded all 4 instances at work today. While I was upgrading it, I noticed that after the in place upgrade, all the settings are gone. I had to re-enter the following information:
Management Server address
SQL Server Address
Database Name
SDK User name and password
License Key
various tick boxes from admin.aspx page.
IIS .Net authorization rules
Therefore, to avoid unnecessary downtime, I'd recommend you to have all these information ready before the upgrade.
Tricks
Because we have multiple management groups at work, I have manually edited the WebHeader.png and WebHeader2.png files in "C:\inetpub\wwwroot\MMWeb\Content" and added a custom title on these image files so users can easily identify different instances for different management groups: