Inside Azure Management book V4 and Free Online Summit
The Inside Azure Management book v4 has been officially released few weeks ago. In case you haven't got it, you can either download for free, or purchase a kindle version on Amazon.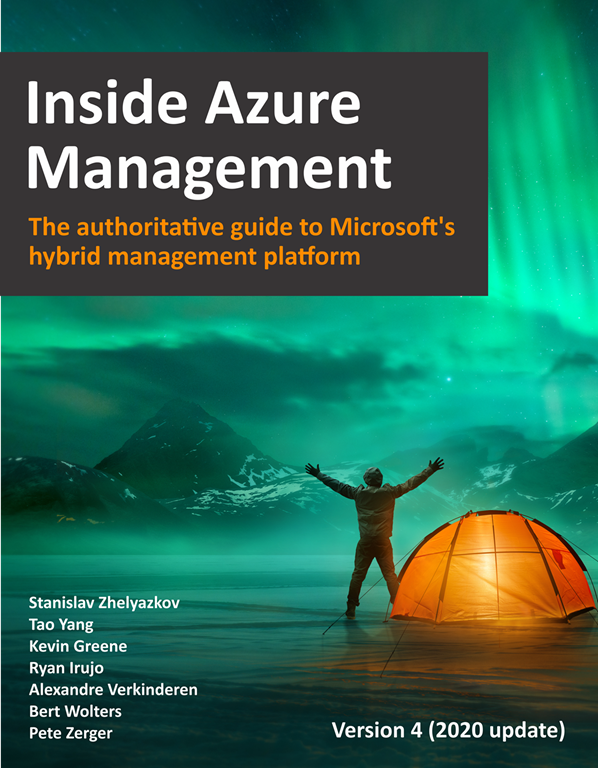 To celebrate the book launch, the authors of this book (including myself), will host a one-day 16-hour free online summit on Wednesday 23rd July 2020. Come join us for a full day of deep-dive technical sessions across a variety of Microsoft cloud topics from Microsoft MVPs and special Microsoft guests. Topics will include
DevOps and Automation
Cyber Security
Cloud Governance
Migration and Monitoring
Docker and Kubernetes
AI and Identity
You can register for the event at eventbrite.com: https://www.eventbrite.com/e/inside-azure-management-the-virtual-summit-tickets-109230577598
Although the final sessions are still be finalised at the moment, I can reveal mine. Back in February this year, I have co-presented a session with Alex Verkinderen (who's also an co-author of this book) at Microsoft Ignite the Tour in Sydney. The topic we presented was called Design and Implement a Monitoring Solution for Your Azure Environment Using ARM Template and CI/CD Pipelines. We were going to deliver this session again this April in Singapore at the Experts Live Asia. However, due to the COVID-19 pandemic, Experts Live Asia was cancelled this year. I have many people approached me after our Ignite talk in Sydney and asked for the recording. Unfortunately, the session was not recorded. So Alex and I have decided to deliver this session again at the Inside Azure Management virtual summit in July, with updated and improved content. It will be a level 400 session, with lots of code samples. I hope I'll see you then!